Tudor Revival architecture is pretty much what you think it is—architecture inspired by the England's Tudor era (1457-1603). Originally, Tudor architecture was imposing and enormous. Kind of like Henry VIII. Today, though, it's been scaled way down from the Tower of London to fit modern houses.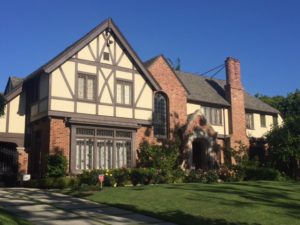 Tudor architecture was revitalized in England in the late 1800s and by the early 1900s the Tudor revival style had hit American shores, Los Angeles included. In the first half of the twentieth century, the U.S. saw a boom in classic architectural styles and Tudor revival was one of the most popular to hit American suburbs.
Unlike other architecture styles in California that were popular at the time, like Craftsman and Spanish Colonial revival, Tudor homes emphasize indoor living. Aesthetically, when you think Tudor the key is warmth. Makes sense. It started in England where it is significantly colder than California. (This is why my English great-grandparents moved here.)
Hallmarks of Tudor revival include exposed timber ceiling beams, rustic fireplaces, plenty of dark wood accents, and warm color schemes. Windows typically have diamond shapes or grid patterns. Some even have leaded windows or stained glass.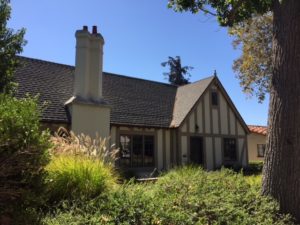 Here some characteristics of Tudor-style architecture:
• Half-timbering (exposed wood beams and light-colored stucco)
• Steep, multi-gabled roof
• Oversized chimneys
• Brick and stone accents
• Dramatic entryways
• Grouped windows
• Board-and-batten wall paneling
In Southern California, you can see the influence of Tudor revival everywhere. From grand mansions worthy of royalty to suburban home to trim on business. Once you notice it, you'll see it everywhere!