Here in Southern California, we get a lot of sun. There's nothing surprising or new about that statement but what's interesting is how architecture often accounts for this. One technique is called brise soleil and it's a French term (so fancy!) that translates as "sun breaker." So quite literally, it's an architectural feature that breaks up the sun, directs it or provides shade without completely obscuring the building. The sun isn't just in California, of course, so you'll see this technique everywhere but we do see it a lot here, especially in Modern or Mid-century Modern homes, apartments and buildings.
With Mid-century buildings, cement blocks are a common brise soleil but I've seen them made out of all kinds of materials. They can be louvers, fins, folding shutters. A brise soleil feature can be small and cover just a window or the entire side of a building. Their versatility is extraordinary. Think of them as built-in Venetian blinds for buildings.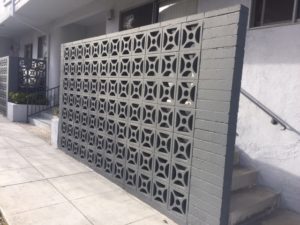 With some houses and buildings, I've noticed that the brise soleil features have been removed. This is especially true with the blocky kind because they're considered "old fashioned." This happens with a lot of architectural features. They fall out of favor, are seen as old or not functional. To an extent, I get some of that. Many people don't realize that there is an actual function to brise soleil. This actually bums me out. I happen to love the way they look, especially when they fit the period of the building. They're there for a great (and functional) reason and usually add to the distinctive architectural look of a building!